About The Author
Kam Raslan is a writer and director, working in film, TV and theatre in Malaysia. He is a columnist in The Edge weekly and Off the Edge magazine. His writings were previously compiled in Generation: A Collection of Contemporary Malaysian Ideas. He also writes for the Instant Cafe Theatre and will one day make his own feature film.
Confessions of an Old Boy: The Dato' Hamid Adventures is Kam's first book and is available at major bookstores in Malaysia, Singapore, and Brunei, and is also available online at Amazon.com
If you wish to contact Kam Raslan, email to:
kam at kamraslan dot com.
Confessions of an Old Boy: The Dato' Hamid Adventures
Downloads
Download the following samples from the book in PDF format:
Kam Raslan: Readings and Other Appearances
Kam and Dato' Hamid on the cover of Off The Edge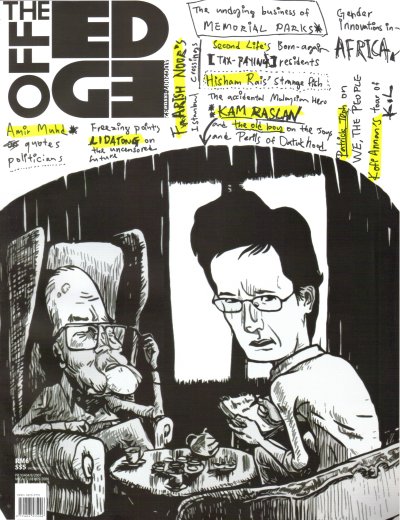 Dato' Hamid is on the cover of the August 2007 issue of Off the Edge, together with his creator, Kam Raslan, and two exclusive interviews, "The Joys of Datukhood" with Dato' Hamid, and "The Perils of Datukhood" with Kam Raslan. (A special edition that promises to be a collectors' edition soon. I had to go to 4 newsagents before finally finding a copy - Webperson)
This, however, is not the first cover for both creator and creation. They are veterans at being "cover men"!
Kam was on the cover of the 7 May 2007 issue of Options in The Edge before going on to share the cover of the 8 July 2007 issue of Starmag with Dato' Hamid.
Kam Raslan's Confessions of an Old Boy: The Dato' Hamid Adventures (ISBN 978 983 3445 00 4) was first serialized in Off the Edge magazine and is published by Marshall Cavendish Editions, an imprint of Marshall Cavendish International.