About The Author
Kam Raslan is a writer and director, working in film, TV and theatre in Malaysia. He is a columnist in The Edge weekly and Off the Edge magazine. His writings were previously compiled in Generation: A Collection of Contemporary Malaysian Ideas. He also writes for the Instant Cafe Theatre and will one day make his own feature film.
Confessions of an Old Boy: The Dato' Hamid Adventures is Kam's first book and is available at major bookstores in Malaysia, Singapore, and Brunei, and is also available online at Amazon.com
If you wish to contact Kam Raslan, email to:
kam at kamraslan dot com.
Confessions of an Old Boy: The Dato' Hamid Adventures
Downloads
Download the following samples from the book in PDF format:
Kam Raslan in the News
Website Exclusive!
Kam Raslan on reading, writing, censorship and a certain Man Booker Prize winner at the the Ubud Writers & Readers Festival 2007
Although everywhere is unique, some places are more unique than others. Bali is unmatchable. If you haven't been then go, but avoid the tourist hubbub of Kuta, head for the hills and go to Ubud. The clichéd image of Balinese festivals is a reality. Every day, and seemingly everywhere, there are processions of women balancing offerings on their heads and the menfolk following behind banging gongs. Balinese life revolves around ceremony, art and festivals and in September 2007, I attended a festival of a different sort - The Ubud Writers & Readers Festival.
The weeklong festival was held in two venues, with numerous other workshops, performances and events taking place throughout Ubud. Although each venue held their six daily panels simultaneously, there was always a good sized audience for every panel. Amongst the star authors were Kiran Desai, Richard Flanagan, Tan Twan Eng and many others (including yours truly).
I was involved in two panels - Satire and Censorship. I have had experience in both. I think the only profound thought that I was able to contribute was during the discussion on censorship. The thought struck me that, from my experience in Malaysia, censorship works as an agreement between the people and the censor. If people really didn't want censorship, then it could be deposed in a day. But the audience agree to a compact where difficult and sensitive issues will be ignored. It makes life easier. And post 9/11 western countries, especially America, have entered into that agreement.
Life led in the gentle cloud of censorship is tranquil and safe because history, science, religion and race are all ignored. Instead we can focus our attention on Britney. Censorship helps us deal with the difficult complexities of the world by simplifying it. It's like when a loved one dies. That's a difficult time where we have to face up to love, loss, perhaps hatred. But censorship says, "Don't worry, imagine she never existed." If you imagine she never existed in the first place, then what is there to be upset about? Life can be so much simpler.
What really stood out for me about the festival was that it was for writers and readers. Even writers do more reading than writing. A book without a reader is like one hand clapping and the festival successfully brought the two together. There was no barrier and no shyness. Having said that, I was too shy to speak to Kiran Desai, although I did inadvertently help to arrange a car for her during the festival. She's a fine looking lady - don't tell The Wife I said that.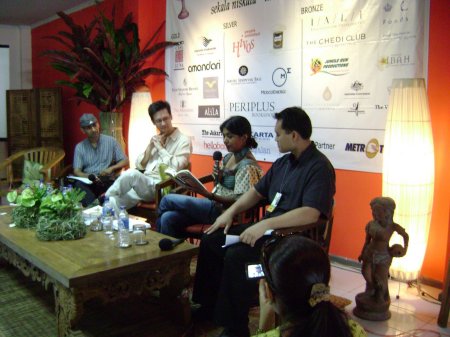 Kam during the panel on Satire with Nury Vittachi (to his right), and on his left, Manuka Wijesinghe and Isman Hidayat Suryaman
(Picture courtesy of Sharon Bakar)
Kam Raslan's Confessions of an Old Boy: The Dato' Hamid Adventures (ISBN 978 983 3445 00 4) was first serialized in Off the Edge magazine and is published by Marshall Cavendish Editions, an imprint of Marshall Cavendish International.